==> Click here for discounted tickets to Unleash The Power Within <==
Last week I shared an in-depth review of my experience at Day 1 of Unleash The Power Within, a 4-day Tony Robbins seminar held in New Jersey. It was my 4th time attending, and this time I decided to take many videos and share experience with you on my blog. As you can tell from the videos of Day 1, there was some pretty powerful, life-changing stuff going on there. Click here to check out my Day 1 of Unleash The Power Within Review.
In this blog post, I'm going to share some of the videos and powerful lessons of Day 2 of Unleash The Power Within. During Day 2, Joseph McClendon III was our speaker for most of the day, along with Tony Robbins via video. Unfortunately, Tony Robbins only attends Day 1 and Day 3 of Unleash The Power Within, while Joseph McClendon III runs the show on Day 2 and Day 4. That's okay though, because Joseph is a pretty amazing speaker and is right up there with Tony.
Day 2 of Unleash The Power Within – Turn Dreams Into Reality
Before I get into the content and powerful lessons from Day 2 of Unleash The Power Within, check out the video I recorded the morning of Day 2 – as you can tell, my voice isn't in great shape from the night before.
Watch the quick 1-minute video below:

(Click here to watch the video on YouTube)
The energy was high during Day 1 amongst the 5,000+ participants. Everyone was still in a peak state from the night before, especially after walking over fire. When Joseph McClendon III came on stage, one of the first things we learned is something called "The Ultimate Success Formula".
The Ultimate Success Formula
1) Know Your Outcome
If you want to achieve anything in life, you need to know what the outcome or target is you're after. The more specific you are, the more likely you are to achieve it. Clarity is power.
2) Know Your Reasons Why
Once you know your outcome, you have to have compelling reasons WHY you want it. Reasons come first, answers come second. You have to make whatever it is you're after a MUST, something that you're absolutely committed to achieving. Having compelling reasons why is what provides the fuel and motivation to take action towards what you want.
3) Take Massive Action
Once you know what you want and why you want it, the next step is to take MASSIVE ACTION. Not a little bit of action, but MASSIVE ACTION. You need to create a game plan and execute it.
4) Know What You Are Getting
Once you're taking massive action, you need to pay attention to what you're getting. The key here is to have sensory acuity. Are you making progress towards your outcome? Are you moving closer or further away? Is what you're doing work?
5) Change Your Approach
If what you're doing isn't working, what do you do? Change your approach. If that doesn't work, what do you do? Again, change your approach. The key is to keep changing your approach UNTIL you get what you want. This is what the most successful people do, whether it be Thomas Edison inventing the light-bulb or Colonel Sanders selling his chicken recipe.
If you follow these 5-simple steps, you can achieve anything that you want.

(Click here to watch the video on YouTube)
One of the next important lessons from the video above of Joseph McClendon III is on the power of reinforcement.
The truth is, we are all WAY TOO HARD ON OURSELVES.
We don't praise ourselves enough and give ourselves credit. The key to conditioning a habit or behaviour is through REINFORCEMENT. The more we reward ourselves for doing the right things, the more likely we are to do them. Simply the act of rewarding yourself, whether it be patting yourself on the back, smiling, or acknowledging yourself in any way – you're giving yourself pleasure and that is being linked to the behaviour.
What gets rewarded, gets repeated.
Joseph talks about how there are two primary ways to condition something, and they are:
1) Repetition
2) Praise
Mother is the repetition of skill. Praise is the father of skill.
In the below video, you can see Joseph McClendon instructing us on how we freaking rock.

(Click here to watch the video on YouTube)
One of the most powerful experiences of Day 2 of Unleash The Power Within is when we went through a process called "The Driving Force: The Science of Momentum".
The above image is a diagram from the Unleash The Power Within workbook. As you can see, there are 5 steps to the power of momentum. I'm going to go into them in-detail below.
Your Driving Force: The Science Of Momentum
STEP 1: Put Yourself in a Peak State
Your emotional state is something I explained during Day 1 of my Unleash The Power Within Review. Before you do anything, you want to make sure you're in a peak state. The reason is, the state that you're in is what will affect what decisions you make and whether or not you will follow through. You want to change your state by first changing your physiology, your focus, and your language patterns.
STEP 2: Find Your Passion!
Next is to uncover your passion and fuel, which is what will create drive. You do that by asking the following questions:
What do you love?
What do you hate?
What are you passionate about?
What do you really want?
What really drives you in life?
All of these questions will elicit what you value most and will unleash your passion.
STEP 3: Decide, Commit & Resolve!
Once you're in a peak state and have unleashed your passion, the next step is to make a DECISION and COMMITMENT.
It's in your moments of decision that your destiny is shaped.
Tony Robbins 
We did this by asking two primary questions:
1) What are two decisions you made in the past that have positively shaped your life?
How did they change your life for the better? What finally got you to decide?

2) What are two new decisions you are committed to making now, and how will they
powerfully improve your life forever?
This was such a powerful moment for me, as we put ourselves in the state to make a new empowering decision. One of my decisions at the Unleash The Power Within event was to compete in the WBFF Fitness Modelling Competition on June 23, 2012 in Vancouver. And another one was to reach a certain financial objective for 2012.
When you're in a state of absolute CERTAINTY and you make a decision, it becomes a COMMITMENT. All decision making must be done from a peak state, otherwise you're not likely to follow through on it long-term.
As you can see in the video below, Joseph McClendon III puts us in a peak state and we are making our DECISIONS. Afterwards, you can see us celebrating!

(Click here to watch the video on YouTube)
STEP 4: Take Immediate, Intelligent, Consistent, & Massive Action!
Once you've made your decision, massive action is necessary. Intelligently employed massive action can be a cure-all.
There are a few key strategies to make sure you're taking effective action, which include:
Find a role model or mentor.
Get a proven model (or create one).
Get a plan.
Do something immediately, before leaving the sight of setting your goal or decision.
STEP 5: Be S.M.A.R.T. – Be Honest With Yourself
You want to make sure you're following the S.M.A.R.T. philosophy, which is:
Strengthen it.
Measure more often!
Assess whether it's giving you the emotional reward you want.
Reinforce what works and take new action to continue the momentum.
Take new action!

(Click here to watch the video on YouTube)
There were so many other amazing powerful moments during Day 2, unfortunately I won't be able to  share them all in this Unleash The Power Within Review. But I will share by far my favorite moment during Day 2, and that was during an exercise called "Closing The Gap".
Tony Robbins explained that there are two types of motivation:
1) PUSH Motivation
2) PULL Motivation
PUSH Motivation is when you're constantly pushing yourself and using your discipline and willpower to achieve your goal. But, willpower and discipline will NEVER last long-term, as you will eventually get burnt out. This is why so many people fail, because they are PUSHING themselves to achieve an outcome, but it doesn't last for more than a few days, weeks, or months.
The key is to tap into PULL Motivation, which is where you feel literally PULLED toward your goal. It doesn't require discipline or willpower, as you WANT to do the things that are necessary to achieve your outcome. It's getting yourself from HAVING to do it, to WANTING to do it.
The thing is, there are certain things in our lives that we feel PULLED towards that we enjoy doing. For example, I love going to the gym and working out. It requires no discipline or willpower. In fact, it takes discipline or willpower for me to NOT go to the gym – I literally have such a hard time taking days off. This is an example of PULL motivation for me.
Part of the reason I feel pulled towards working out is because 1) It meets my needs, 2) My beliefs/values are aligned, and 3) I have a compelling vision and reasons why.
But, there's another thing that can pull us towards an outcome or goal. Tony Robbins shared a powerful process that we went through to create that pull motivation. We did it by feeling and experiencing the outcome or goal that we want to have as if we've already achieved it, and then had it TAKEN AWAY from us.
The strategy behind the exercise is that once we've EXPERIENCED SOMETHING and then have it taken away, we naturally feel pulled towards it again. For example, if you're used to having a cell phone, and then one day I say to you "No more cell phone, you have to go back to using pay phones", because you're used to the experience of having a cell phone you will FIND A WAY to get back to it.
This process was phenomenal and by-far one of my favorites of Day 2.
There were so many other powerful lessons, experiences, and moments of Day 2 of Unleash The Power Within. It'd take forever to share all of them in-detail, but here is a few other brief concepts and lessons I want to mention:
Five To Thrive: The Core of Emotional Fitness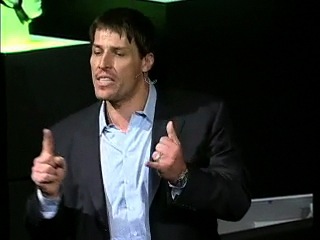 During Day 1 of Unleash The Power Within, I explained the Emotional Triad. Well, what determines whether or not you get into state are whether or not you have a Compelling Future (a reason to use your skills) and your Identity (we don't do what we can, we live what we believe we are).
I found this segment interesting, because there's been times in my life where I KNOW that I SHOULD get into state, but simply don't feel like it. And it all comes down to those two keys.
It's always important to have a vision or compelling future, something to look forward to. Without one, we just sit around. There is no drive without a compelling future. Your Identity is basically a sum of beliefs about WHO YOU ARE. It's how you define yourself. It's important to have empowering beliefs about yourself and about who you are, as that determines what you'll do consistently.
The strongest force in the human personality is the need to remain consistent with how we define ourselves.
The Power Of Team
Tony Robbins talked about how the secret to Wealth and Happiness is to become a team player.
In terms of having a "Team", Tony Robbins explains how the key is to view every human being as part of your team or family. It doesn't matter if it's the man on the street, your waiter at a restaurant, or the person that is out to hurt you. In fact, Tony explains there are two key beliefs to have about people:
People do the best they can with the resources they have.
There are no unresourceful people, only unresourceful states.
You want to always see the good in others, and understand that they're doing the best they can with the resources they have available. Also, whenever someone is angry or does something to hurt you, understand that it's because they are in an UNRESOURCEFUL STATE.
These are both powerful beliefs to have. Tony says that most people are unhappy and poor because their focus is on themselves. Power always moves to those who are truly committed to serving. The larger and more caring you have for your team, the more power you have. Your level of consciousness can be measured by how many people you care about.
All happiness comes from progress. Progress shows up in the form of growth and in a sense of contribution.
Who you spend time with is who you become. If you want to change your life, one of the first places to start is who you're surrounding yourself with, as they affect who you are more than anything.
If you want to grow and achieve what you want, make sure you're surrounding yourself with people playing life at a higher level. Find a team that will challenge you and force you to grow, not a team that is easy and comfortable. If it's easy and comfortable, you will not grow.
Before I wrap up, I want to list a few powerful quotes that I have listed in my journal:
Human beings will do more for others than they ever will themselves.
The larger and more care you have for your team, the more power you have.
Treat people well who treat you poorly. This makes you a leader, not a follow.
Connect with team humanity. Everyone is apart of your team.
When people come at you and are intense, it has nothing to do with you. they are hurting. Give them the gift of changing their state. Ask, "What is this person going through?"
You can have a meal, or you can create magic.
Life will pay whatever price you ask of it.
That pretty much wraps up Day 2 of Unleash The Power Within with Tony Robbins and Joseph McClendon III. What a powerful day! If you attended UPW before or have any questions, leave a comment below. I'd love to hear from you.
Click here for my Day 3 of Unleash The Power Within Review.
==> Click here for discounted tickets to Unleash The Power Within <==
Like what you read?
If so, please join over 1,324 people who receive exclusive weekly life-changing videos, articles and resources, and get FREE INSTANT ACCESS to the Life Mastery Toolkit! Just enter your name and email below: